---
Broken Ranks – the story so far

Almost everything has already been programmed. The only major things left are guild headquarters and the last remaining interface windows: settings and news. We've left it for last, because they are not required for normal play and we'll have to wait to the very end before we decide exactly what features they will include. For now it's all about testing, looking for bugs and preparing the mobile version, as it requires many unique solutions due to hardware constraints. The current mobile version was playable at Poznań Game Arena. I can only say that it's cool now and we'll be even better in the future.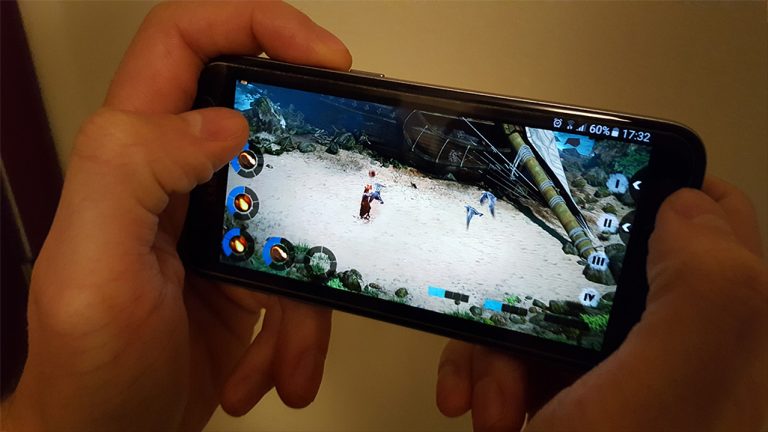 As far as graphics go, we have 95% mobs ready. They are awaiting animations and then implementation in Broken Ranks. All the locations created with 3D in mind have been converted. The remaining locations need to be redesigned to match the scale and quality of what we have now. The old Khold Mountains and Kemenac have their charm, but one can see with the naked eye that they are from another age. The labyrinth of caves under Alaril is ready, which we mentioned some time ago in our blog. I just want to remind you that this region is composed of several locations: three main (biggest) caverns, four side caves (including Geomorph and Garthmog instances) and many minor quest grottos. Anyone present at Poznań Game Arena could admire these locations. Now we are working on a new version of Orc Forest. We're trying not to "go wild" too much, we want to keep what our players are used to. The paths, layout, mobs, travel times will not change much. We're trying to keep the feel and gameplay intact. The only changes we're planning are making it prettier and more interesting
. And one more piece of appearance news: our graphic designers are starting work on the last major missing thing, namely equipment. Rings, armor, swords, shields, etc. We've left it for last, because we want them to be as appealing as possible thanks to the experience gained when designing mobs. You'll have plenty of time to admire the effects of our work.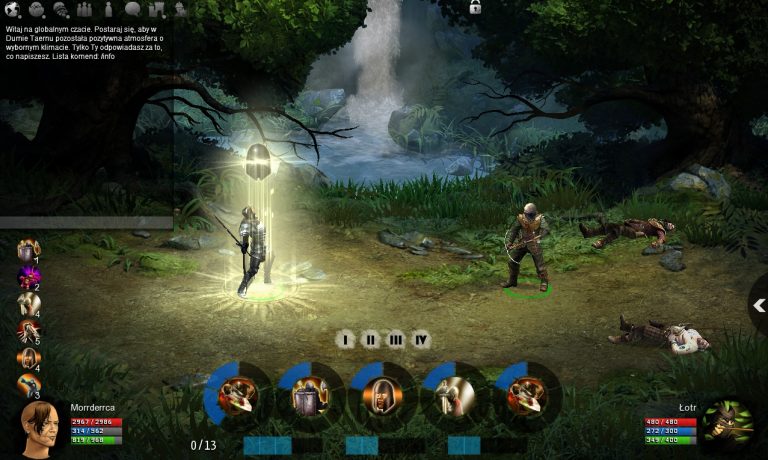 The next element of Broken Ranks are combat animations and effects. A completely new feature – and again, everyone attending Poznań Game Arena had a chance to admire it, everyone else should regret not coming. To those regretting we can say that we've added a unique animation to every ability – an effect instead of the old, bleak, flat icons. We've got you what you've been asking for, e.g.: druid's hornets look like hornets, roots entangle foes, etc. Additionally, the animations are quicker so combat is much more dynamic. All these elements are 80% ready. We're still working on Sheed's unique abilities and some mob abilities.
In the new version of the interface we divided buttons into sections:
– chat section (upper left corner),
– main section – icons for equipment, stats, map/quests, guild (upper middle of the screen),
– settings section – icons for messages, friends, ranking, news, setting, shop (upper right corner),
– active section – action icons: party overview, party lock, resting, potion quick access icon and status icon. How the last two are going work, how they will look and whether we are even going to implement them is currently a mystery. (lower middle of the screen).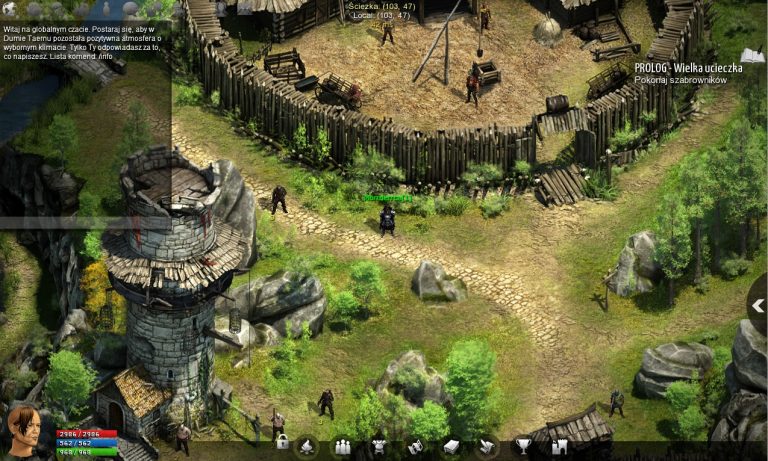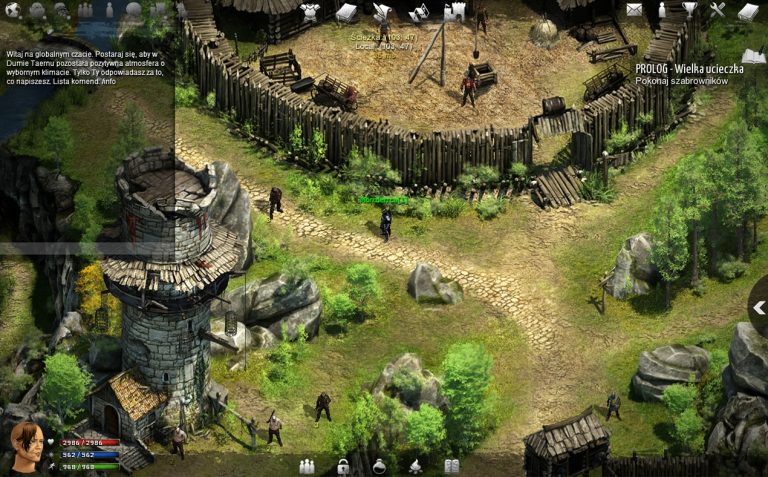 At Poznań Game Arena we could switch between both versions of the interface and so we were able to compare people's reactions and ask them how they liked the new and old version. The conclusion was the same as ours - in the new version it's much easier to find what you're looking for.
We used a similar trick with object grouping when designing the skill selection window in combat. By removing tabs, moving the skill selection windows closer to the middle of actions circles we made skill selection much quicker. You had had a chance to see it for yourselves during last year's Arena. Unfortunately we still had one problem – placing all the skills on the circle meant that all 9 elements would have to fit on the outer circle and be equidistant. The system was hard to grasp, it was difficult to learn it in such a way that you immediately reached for the skill you want. That's why we divided the 9 skills into 3 groups 3 icons each. A similar grouping is used in 2D. In 3D we only needed to abandon the "equidistant" part and add free space between each of the groups. The change is almost imperceptible but it made a difference. It was clearly visible at the tournaments at PGA: all you needed was a moment of training and you grasped the new system instantly.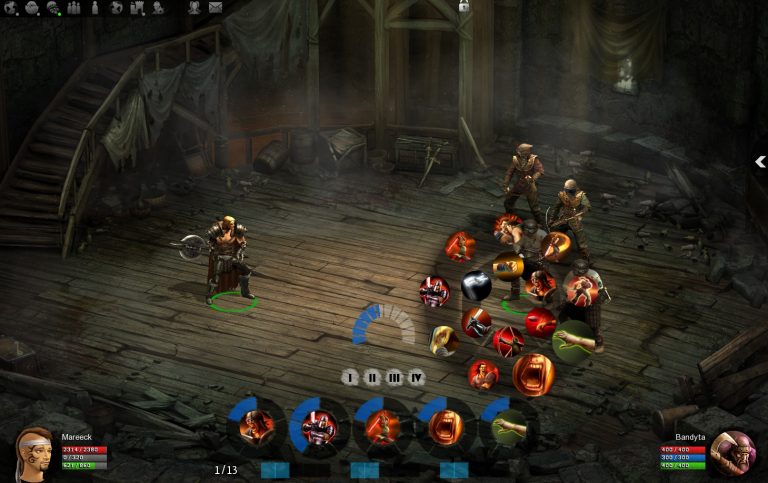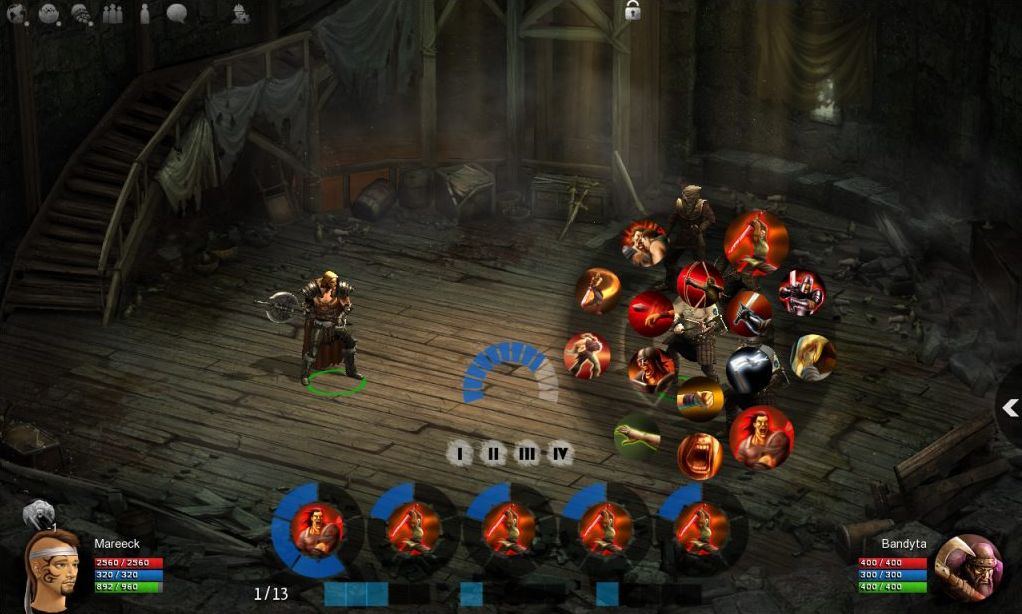 The last major change we are working on is the transition system. In Broken Ranks we are trying to reduce the number of times you accidentally exit an area. Accidentally exiting an instance with no way of going back is not a pleasant experience and so the current version of Taern uses a confirmation window in key locations. However, we want transitions that don't require you answering question like "are you sure that you are sure…".
At Poznań Game Arena we presented a new system in which each transition is divided into two stages. The first stage is an invisible but sizable area next to the transition spot. When you point the cursor at it, an icon appears. In order for the transition to trigger, you can't just click anywhere as you would in the current version. You need to move the cursor and point at the icon. This doesn't eliminate accidents, but it should limit them. We are concerned that searching for and point at the icon might be too tedious, but… our observations at Poznań Game Arena suggest that with some fine tuning the system will be OK. The final decision about how transitions will look and work will be made during tests. And here are the news many of you must have waited a long time for.



Taern Broken Ranks at Poznań Game Arena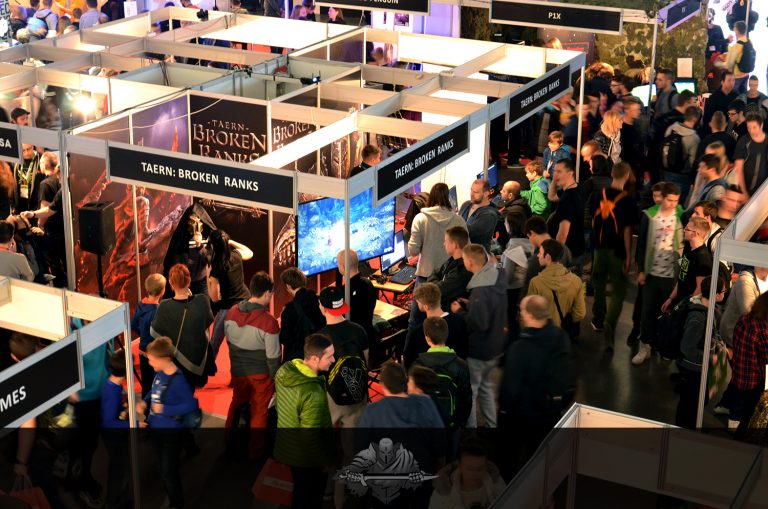 Those of you who visited our stand at Poznań Game Arena already had an opportunity to play Broken Ranks. The players were shocked that combat could look so cool. Here's what we heard:
"Oh my, is it really Taern? At last I won't look like a potato and the gameplay will be the same."
"At last I have a reason to switch from an old Nokia to a smartphone."
"Jeez, it looks so pretty."
"Fabulous."
"I'd buy you if I were an investor."
"This tournament is the only place where everyone plays whatever they want and no one complains."
You know, our presence at Poznań Game Arena was not meant to draw new players. We wanted to see what people think about our game. And listening to that was very motivating, because their opinions were very enthusiastic. You especially liked quick yet fluid combat animations. Some people gave us valuable advice that helped us improve our interface, animations and other things. Thank you for all your comments.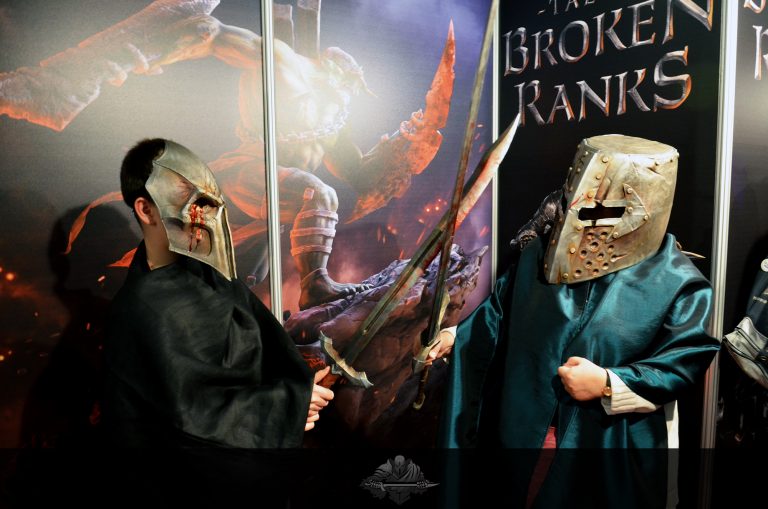 At some point Torg was showing the game on a smartphone to someone when the character he was playing was attacked. By a person playing on a PC. That's what we call cross-platform and not some lousy separate servers for mobile users. We can confirm – when playing on mobile you'll also be able to play with people using PCs.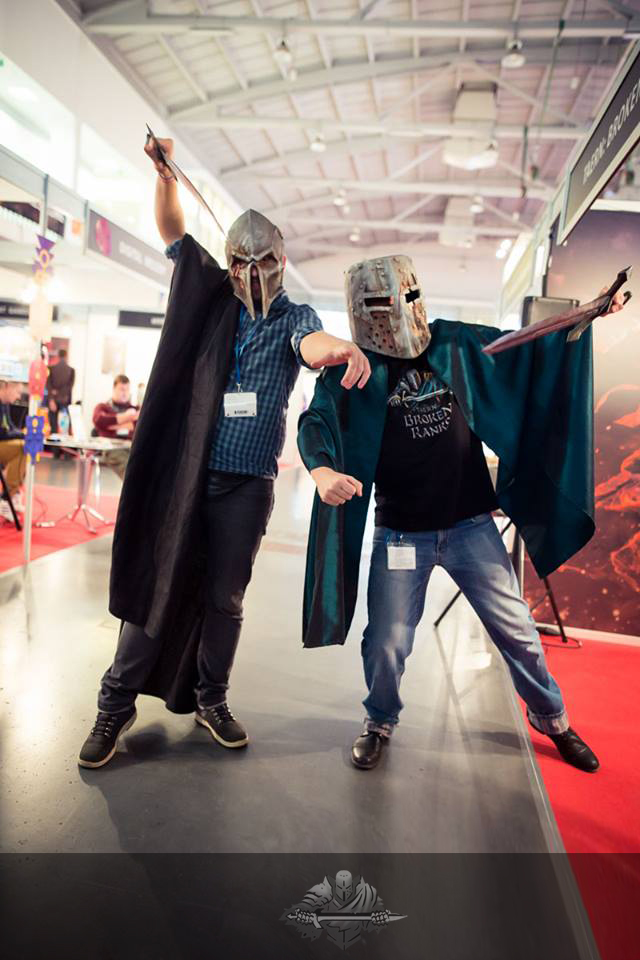 The decision to print a Taernian helmet, Utorian mask and two swords was spot on. We took a couple hundred pictures and it was mainly thanks to them that we had such a crowd next to our stand most of the time. Even some cosplayers from our competition came over and took pictures with our junk ( ͡° ͜ʖ ͡° )
We organized a PvP tournament of Saturday. Here we'd like to thank KGB, you've done a great job – many people wanted to win the headphones, platinum and t-shirt. The event was so popular and so many people wanted to take part in it that we had to organize a qualifier. 8 people reached the final, two of them complete freshmen. And Czarek – it was incredible! We couldn't believe that he was playing Taern for the first time. He beat everyone easily and got the first prize. Seriously, we were impressed. We hope that you'll join us for longer.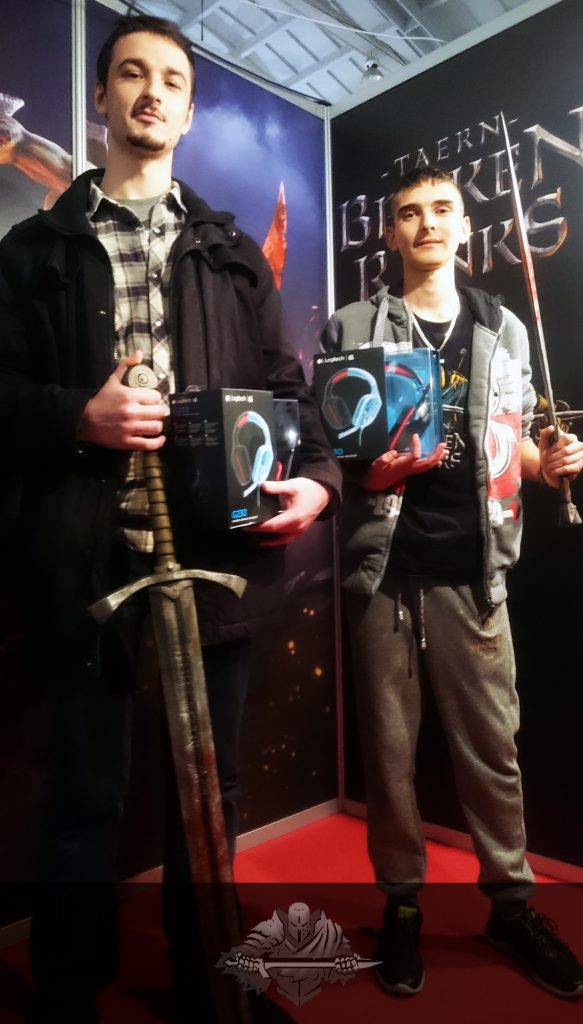 If you want more pictures, we'll be publishing them on our fanpage.


Taern Broken Ranks – tests!

We can now officially confirm that we've entered the test stage of the new version of the game. You probably know that we gave out mysterious Beta codes at Poznań Game Arena. Read on and you'll see what it's all about and how it'll all look.
After Poznań Game Arena we want some time to fix a couple of bugs we identified during the presentation. This version will be the one used for the first remote tests – we'll give Broken Ranks to our Engineers and Admins. We'd like to do this next week (at it's the only date you'll see here). We play it together, find more bugs, fix the obvious ones, check what we can. After fixing all there is to fix, we'll move to the closed Alpha testing stage. We'll give access to more people, all those who were promised that they'd be able to take part in the first tests of Broken Ranks: accomplished testers, players who won competitions. The last stage will be a closed Beta for all those with access codes. The people who were given the codes at Poznań Game Arena will be informed when the tests start. I want to take this opportunity to answer a very frequent question – the codes from Poznań Game Arena are not the only means of getting access to the tests. If someone is interested and would like to join, I'm sure there'll be ample opportunity to do so. The more people look for bugs before the official release date, the more bugs we'll be able to fix. We'll be informing you how the tests progress, so keep following our fanpage and start preparing for Broken Ranks!